Gamepedia and Fandom have joined forces and our combined teams would like to encourage all Diablo fans to unite and work together as well.
Please head to the community portal to discuss whether this wiki should merge with Fandom's Diablo community.
Wraith (Diablo III)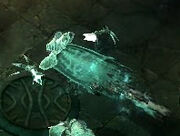 Wraiths return in Diablo III, and while their function looks about the same, their graphics have been substantially improved. Wraiths have a melee slashing attack and a ranged life drain attack. Characters under the life drain attack suffer a substantial penalty to their movement speed. They are very annoying monsters because they can disappear momentarily and never stand still resulting in attacks missing or constant running for melee characters.
Pre-release
They were seen emerging from Ghostly Orbs in the WWI 2008 movie and it was not known if they could only come from the odd monster generators, or if they could be found roaming freely in dungeons.
Variants
Normal
Enraged Phantom
Wraith
Deathly Haunt
Unique
| Image | Name | Affixes | Variant | Location | Notes |
| --- | --- | --- | --- | --- | --- |
| | Lord Dunhyld Phantom of Anguish | | unknown | | Encountered during the The Matriarch's Bones event. Created after each bone pickup but only one may exist at any time. Drops no loot but awards experience. |
| | Spirit of Khan Dakab Malevolent Ghost | | unknown | | Part of The Lost Treasure of Khan Dakab Event. Created by trap on treasure container and must be killed to finish the Event, proving the event loot drop. |