Gamepedia and Fandom have joined forces and our combined teams would like to encourage all Diablo fans to unite and work together as well.
To achieve this, this wiki will be archived in favor of the Fandom Diablo community November 1st. Head to the community portal if you have questions or concerns before then.
Unique Monsters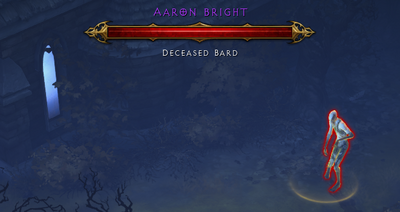 Unique Monsters are "named" versions of regular monsters. They are harder to find, and like Rare Monsters they may have special abilities. There can only be one of each Unique Monster; for example the "Skeleton King" is the one and only Skeleton King of Diablo III. Unique Monsters will always appear in the same areas, but may have a limited chance to spawn. Others are associated with quests, such as bosses, and may only spawn depending on the player's quest progress. Unique Monsters may look similar to regular monsters but can be distinguished by their purple names, and special titles. Unique Monster drop higher quality loot and larger Health Globes.
List of Unique Monsters
Act I
Act II
Act III
Act IV
Act V
Location Unknown