Steve Shimizu (person)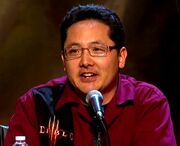 Steve "Monster Trainer" Shimizu is Lead Gameplay Programmer for Diablo III. Prior to joining the Diablo III team, he worked at Troika Games on the title Vampire: The Masquerade - Bloodlines, where he would have met Leonard Boyarsky.[1] Shimizu talked about monster AI on the Crafting Sanctuary Panel at Blizzcon 2010.[2]
Media Appearances
EmbedVideo received the bad id "JA6su8Mg__0&start=643" for the service "youtube".
Games Credited
Vampire: The Masquerade - Bloodlines (2004), Activision Publishing, Inc.
Fear Effect 2: Retro Helix (2001), Eidos Interactive, Inc.
Fear Effect (2000), Eidos Interactive Ltd.
Magic: The Gathering - Battlemage (1997), Acclaim Entertainment, Inc.
Bug! (1995), SEGA Enterprises Ltd.
MTV's Beavis and Butthead (1994), Viacom New Media
References