Gamepedia and Fandom have joined forces and our combined teams would like to encourage all Diablo fans to unite and work together as well.
Please head to the community portal to discuss whether this wiki should merge with Fandom's Diablo community.
Skeletal Shieldbearer
Skeletal Shieldbearers are the toughest skeleton family. Armed with a sword and shield, they deal low damage but are able to survive considerable punishment. Their shields block all damage throw at them but are flimsy so break after absorbing some damage. The shields of Elite variants cannot be broken but appear to block less effectively, if they can even block at all. Normal variants pose limited threat to parties as they are easily dispatched by using powerful skills such as Wave of Light that effortlessly destroy their shields and them. Due to their higher durability, Elite variants pose reasonable threat when combined with affixes like Arcane Enchanted or Frozen. Since their shields block a limited number of hits, damage over time skills are most effective.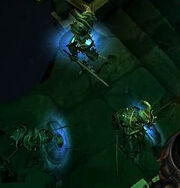 Abilites
Variants
Normal
Champion
Rare
Unique