Peet Cooper (person)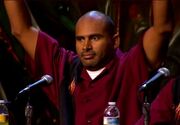 Peet "The Tree Guy" Cooper is the Senior Environment Artist for Diablo III. Prior to joining Blizzard, Cooper worked with n-Space on character modeling and animation for the Gamecube title Geist (2005).[1]
Media Appearances
EmbedVideo received the bad id "I0DQmt5LbLE&start=788" for the service "youtube".
Games Credited
Star Wars: The Force Unleashed (2008), LucasArts
Call of Duty 4: Modern Warfare (2007), Activision Publishing, Inc.
Geist (2005), Nintendo of America Inc.
Additional Links
References