Gamepedia and Fandom have joined forces and our combined teams would like to encourage all Diablo fans to unite and work together as well.
To achieve this, this wiki will be archived in favor of the Fandom Diablo community November 1st. Head to the community portal if you have questions or concerns before then.
Nathan Lutsock (person)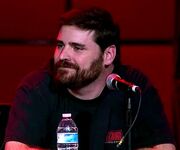 Nathan Lutsock is an Associate Producer for Diablo III.[1]
Media Appearances
EmbedVideo received the bad id "7dAGQOb5iGc&start=229" for the service "youtube".
Games Credited
World of Warcraft (2004), Blizzard Entertainment Inc.
Warcraft III: The Frozen Throne (2003), Blizzard Entertainment Inc.
Additional Links
References