Gamepedia and Fandom have joined forces and our combined teams would like to encourage all Diablo fans to unite and work together as well.
Please head to the community portal to discuss whether this wiki should merge with Fandom's Diablo community.
Monk (The Hell)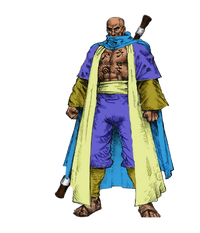 Monks are agile and fast, and they prefer staves to any other sort of weapons. In fact, they wield staves so well that they can even block enemy attacks with it, and they block even better than Paladins. As they gain more experience, their innate ability to dodge enemy attacks also increases, but it cannot, of course, substitute a good plate armor. They are more cautious than other sort of fighters because they don't have as much stamina.
Monks are, perhaps, the fastest class - their attack speed is amazing. However, their damage potential is also a bit lower. On the other hand, ancient knowledge of the warriors from far East allows them to damage the most important of monsters' organs and quite often it results in monster's death or severe damage. Monks don't advance much in spellcasting and usually limit themselves to healing and defensive spells. Monks have the ability to use telekinesis.
Stats
Stats to focus on, in order of importance: DEX, STR, VIT, MAG
| | Starting | Maximum1 | Purpose |
| --- | --- | --- | --- |
| Strength | 15 | 160 | Wearing gear, blocking melee attacks and doing damage. |
| Magic | 5 | 80 | Wearing jewelry, reading books, mana regain and total mana. |
| Dexterity | 25 | 220 | Wearing gear, dodging attacks, chance to hit and block, doing damage. |
| Vitality | 20 | 170 | Max -DFE, life regain, effect of healing, stun threshold and total life. |
| Life | 70 | 543 | Staying alive. |
| Mana | 12 | 183 | Casting spells. |
| DFE (cap)2 | -10 | -85 | Reduces damage taken from enemies |
| Armor | 9 | 144 | Reduces the change enemies will hit you. |
Listed maximum stats is for a level 50 monk with all his ability points maxed out, and without items or spell effects.
In singleplayer, DFE is also capped at -25 on Horror mode and at -50 on Purgatory mode.
Formulars
Total life = 2.5•Vitcharacter + 2.5•Vititems + 2•clvl + Lifeitems + 18
Total mana = 1•Magcharacter + 1.5•Magitems + 2•clvl + Manaitems + 3
Total armor:

Monk with plate: Dex/5 + ACitems + clvl/2
Monk with mail: Dex/5 + ACitems + clvl
Monk with leather and other light armor: Dex/5 + ACitems + 2•clvl
Monk with no armor: Dex/5 + ACitems + 2•clvl

Minimum DFE (cap) = Vitcharacter/2
Melee damage resistance = (Rnd[24 + Vitbase/8] + 12 + clvl/8)% (min18,25%max62,5%)
Diablo: The Hell is a free modification of Diablo: Hellfire. It features many minor improvements and bug fixes, which combined greatly enhances the players experience over the original game. If you are thinking about replaying the original Diablo, try Diablo: The Hell instead. Start by reading the getting started guide.