Gamepedia and Fandom have joined forces and our combined teams would like to encourage all Diablo fans to unite and work together as well.
Please head to the community portal to discuss whether this wiki should merge with Fandom's Diablo community.
Lamprey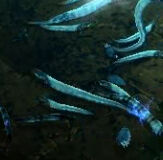 Lamprey are Animals. Lamprey are squirming eels that emerge in a flood from a ruptured Grotesque. They are not powerful monsters, but are disgusting in their fecundity and must be stomped out, like giant maggots.