Gamepedia and Fandom have joined forces and our combined teams would like to encourage all Diablo fans to unite and work together as well.
Please head to the community portal to discuss whether this wiki should merge with Fandom's Diablo community.
Grotesque
"

The grotesques may seem slow and senseless, but they hide many dangers within their hideously malformed bodies. A set of spikes lurks beneath the monsters' flesh and foul parasites nest within them. It is said that these horrors themselves are constructed by a greater evil... a darkness that I cannot even fathom.

— Deckard Cain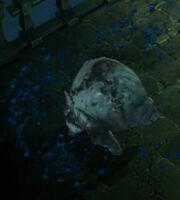 Grotesque are fleshy, undead constructs that have stitching all over their bodies. They are capable of dealing melee damage with a set of spikes hidden under the surface of their skin. Grotesques can also stomach-bump players back. Like a pinata, smaller monsters contained within the Grotesque will burst out upon death.
Abilites
Melee attack
Knockback attack
Summons other monsters upon death
Variants
Normal
| Name | N | Nm | H | I | Location |
| --- | --- | --- | --- | --- | --- |
| Grotesque | 5 | 33 | 52 | 61 | |
| Harvester | 7 | 34 | 52 | 61 | |
Champion
Rare
Uniques