Gamepedia and Fandom have joined forces and our combined teams would like to encourage all Diablo fans to unite and work together as well.
To achieve this, this wiki will be archived in favor of the Fandom Diablo community November 1st. Head to the community portal if you have questions or concerns before then.
Greasy Pig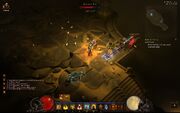 The Greasy Pig is an Easter Egg monster located in the The Fowl Lair. Serves as some reward to those fortunate enough to get The Fowl Lair as a result from The Ancient Device.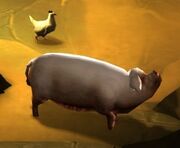 Abilities
Harmless

Unable to attack and can only try and run away when damaged.

Disguised Elite

Grants kill reward identical to Elite monsters.
Variants
Normal
Greasy Pig

Fast Beast

Only one known instance of this monster in the entire game.