Gamepedia and Fandom have joined forces and our combined teams would like to encourage all Diablo fans to unite and work together as well.
To achieve this, this wiki will be archived in favor of the Fandom Diablo community November 1st. Head to the community portal if you have questions or concerns before then.
Diablo I chat icons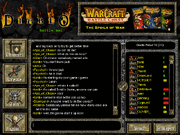 Diablo I was the first game to feature connectivity to the original Battle.net.
The following are the various icons that appear next to usernames in the Battle.net chatroom.
Icons
Diablo specific
Diablo players appear with a portrait representing their character class.
Icon
Description
No dots means no difficulty completed.
Normal difficulty completed.
Nightmare difficulty completed.
Hell difficulty completed.
Since Diablo Spawn only allows Warriors, this
is how they appear to other Diablo Spawn players.
General
Icon
Description
Blizzard employee
Channel operator
Squelched user
User connected to Battle.net through
non-normal means, i.e. not using a game.
Appears in Diablo Spawn,
indicating a Diablo Retail user.
User playing the Spawned version of Diablo.
User playing StarCraft.
User playing StarCraft Shareware.
User playing StarCraft Japanese.
User playing StarCraft: Brood War.
User playing Warcraft II.
User playing Diablo II.
User playing Diablo II: Lord of Destruction.
User playing Warcraft III: Reign of Chaos.
User playing Warcraft III: The Frozen Throne.
Latency
The following appear to the right of usernames, indicating their ping.
| Icon | Lag |
| --- | --- |
| | Low |
| | Medium |
| | High |
| | Unable to play games. |
Other games
The following appear in other games, representing Diablo players.
Avatar
Appears in
Diablo II
Warcraft III
Unused Diablo II avatars.
Presumably to represent Diablo 1
players of the other classes.