Diablo II chat avatars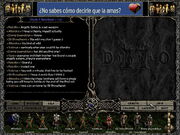 Diablo II was the last Diablo game to feature connectivity to the original Battle.net.
The following are the various avatars that appear above usernames in the Battle.net chatroom.
Avatars
Diablo II specific
Diablo II players will appear as their in-game character.
Hardcore characters will appear in the Neutral (or "Ready") animation and with their name in red text.
Avatar
Description
Logged in with a single player character
(Open Battle.net)
Logged in with a dead hardcore character.
General
Avatar
Description
Blizzard employee
Channel operator
User connected to Battle.net through
non-normal means, i.e. not using a game.
User playing Diablo.
User playing StarCraft.
User playing StarCraft: Brood War.
User playing Warcraft II.
User playing Warcraft III.
Other games
The following appear in other games, representing Diablo II players.
Avatar
Appears in
Diablo 1, StarCraft,
and Warcraft II
Warcraft III
Unused
Avatar
Description
Presumably to represent Diablo 1
players of the other classes.