Gamepedia and Fandom have joined forces and our combined teams would like to encourage all Diablo fans to unite and work together as well.
To achieve this, this wiki will be archived in favor of the Fandom Diablo community November 1st. Head to the community portal if you have questions or concerns before then.
Christian Lichtner (person)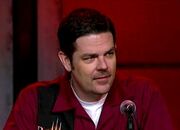 Christian Lichtner is the Art Director of Diablo III and joined the team in early 2009. Lichtner was officially introduced at Blizzcon 2009 as the new Art Director for Diablo III.[1] Prior to his work in the gaming industry, Lichtner was a comic-book artist. He contributed to various publications[2] and was best known for co-founding the coloring studio known as Liquid!.[3] Lichtner's progress into gaming was marked by his involvement on the title Darksiders: Wrath of War.[4]
Additional links
References