Gamepedia and Fandom have joined forces and our combined teams would like to encourage all Diablo fans to unite and work together as well.
To achieve this, this wiki will be archived in favor of the Fandom Diablo community November 1st. Head to the community portal if you have questions or concerns before then.
Chris Metzen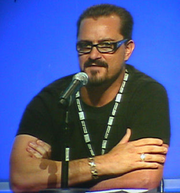 Chris Vincent Metzen alias Thundergod is the Vice President of Creative Development at the computer game developer/publisher Blizzard Entertainment. He is responsible for most of the storylines and lore (through instruction manuals, etc.) found in the Warcraft and StarCraft series of games as well as concept art and character design. Diablo's fictional universe was created by both Metzen and fellow designer Bill Roper, and Metzen also provided voice acting for some of the game's characters.[1]. He returned to the Diablo series in 2000 with Diablo II, working on the game's story, script and artwork.[2]. He is also part of the Sons of the Storm.
Diablo Related Works
Manual Design Layout
Manual Art Work
Poems
The Initiate from page 3 of Diablo instruction manual.
References
External link