Gamepedia and Fandom have joined forces and our combined teams would like to encourage all Diablo fans to unite and work together as well.
Please head to the community portal to discuss whether this wiki should merge with Fandom's Diablo community.
As part of the Unified Community Platform project, this wiki and 38 others will be migrated to the new platform, with migrations beginning September 23rd at 7am CDT. Minimal changes are expected as part of this migration. Read more here.
Bone Wall (Diablo II)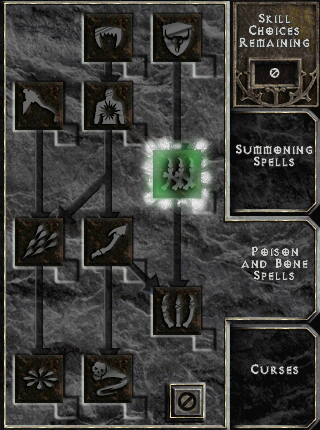 Bone Wall
Creates a barrier of bone.
Skill progression
Level
1
2
3
4
5
6
7
8
9
10
Mana Cost
17
Wall Life (Normal)
20
25
30
35
39
44
49
54
58
63
Duration (seconds)
24
 
Level
11
12
13
14
15
16
17
18
19
20
Mana Cost
17
Wall Life (Normal)
68
73
77
82
87
92
96
101
106
111
Duration (seconds)
24
Description
This spell is an effective method for keeping adversaries from reaching a Necromancer, while allowing him to attack from range or make his escape. This can be of great advantage to a Necromancer, especially a Bonemancer who often has no summons to hold his enemies away, and lacks the more destructive power of a Sorceress. With this skill, enemies can be held at a distance while the Necromancer takes them out at a safe distance.
While the Wall hp might appear low, it scales in Nightmare and Hell to better stand against the increased damage the monsters deal.
Lore
This spell enables the Necromancer to call upon the remnants of the spirits of all the creatures who have ever died in the area. It accumulates their fossilized remains and summons forth from the ground a barrier of dense, fossilized bone.[1]
References
↑ Diablo II Manual, page 74. Blizzard Entertainment, 2000.