Gamepedia and Fandom have joined forces and our combined teams would like to encourage all Diablo fans to unite and work together as well.
To achieve this, this wiki will be archived in favor of the Fandom Diablo community November 1st. Head to the community portal if you have questions or concerns before then.
Beast (class)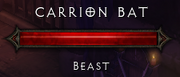 Beast is a class of monsters in Diablo III. They consist of creatures indigenous to Sanctuary that have fallen to corruption. They are distinguished by the "Beast" title under their health bar. Examples of Beasts include the Carrion Bat and Quill Fiends.